Quick and easy actions for healthy savings
Balance your life with simple savings routines that leave more time to focus on you. Savings Plus makes it quick and easy! Start with the below actions.
Access your account online
Track your projected income in retirement
This planner can help you determine if you're on track for retirement. It uses your account data and allows you to include other sources of income, such as your pension and social security, to provide your retirement projection. It then generates a personalized Retirement Readiness report, which is saved each time you use the tool.
Get My Report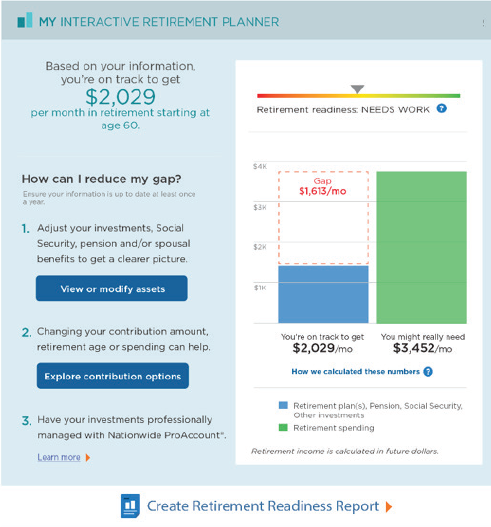 Help your account grow
Increase or restart your contributions
Increasing contributions to your Savings Plus account can help you feel confident that the actions you take now will positively impact your longer-term goals. Learn more about how to contribute, including how our Percentage of Pay contribution method can work for you. You can also sign up for our Auto Increase feature, your contribution amount will automatically increase each year by the amount you chose.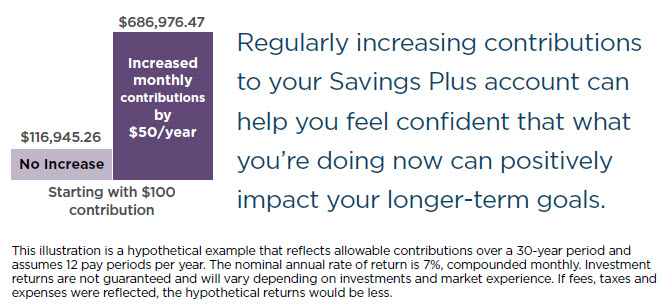 Determine if your investing approach is right for you
Evaluate if you're investing in a way that corresponds with your risk tolerance. For example, your goals and assets could be more at risk if you're invested in only one fund (not applicable to a Target Date or the Socially Responsible Fund), so consider other investment options available to you.
Or, maybe you need a refresher on which investing approach is right for you:
Take care of your loved ones
Educate yourself
Why you should stay in the plan even after you retire
As a large plan, Savings Plus is able to negotiate lower fees not available to the general public. We ranked high in a study that compares our fees to those of other plans. Compare all fees and expenses when considering other providers.
Did you know you can combine your retirement savings into one easy to manage Savings Plus account before or after you retire? As a Savings Plus participant, you are eligible to rollover your 401(a), 401(k), 403(b), 457(b) or pre-tax IRA into your Savings Plus account.
Our Retirement Specialists are here to help you throughout your retirement savings journey. They can help you review your Savings Plus account(s) and discuss any new goals and objectives you may have.
Commit to a life well balanced with Savings Plus. We're with you for life!
NRW-6742CA-CA.7