Contributing to your account(s)
One of the most important steps in planning for your retirement future is determining the amount you can contribute to your Savings Plus account(s). With the 401(k) plan and 457(b) plan, you are in charge of building your retirement savings. The contribution choices are flexible: you have the ability to start, restart, stop or increase at any time. Your contributions are deducted from your paycheck and go directly into the plan(s) you choose.
Contributions can be made on a pre-tax basis or a Roth after-tax basis and can start with as little as $50 a month.
Learn more about the difference between pre-tax and Roth after-tax contributions.
Selecting an amount to contribute
Starting your contributions can be a little confusing, that's why we make the selection process easy. You can contribute to your account by electing a percentage of your gross income or you can elect a specific dollar amount. There is a minimum contribution amount of $50 per month, per plan. Annual maximum contribution limits are determined by the IRS each year and apply per plan. This allows you to contribute the maximum amount to each plan.
401(k) Plan and 457(b) Plan Contribution Limits1
Tax Year
401(k) Annual Limit
457(b) Annual Limit
401(k) Age Based Limit
457(b) Age Based Limit
Total
2020
$19,500
$19,500
$6,500
$6,500
$39,000 (under age 50)*
$52,000 (age 50 or older)
2019
$19,000
$19,000
$6,000
$6,000
$38,000 (under age 50)*
$50,000 (age 50 or older)
* The total 457 limit may be higher if Traditional Catch-up is utilized.

NOTE: If you are opening a Savings Plus account for the first time, we encourage you to start contributing to one plan.

Contribution Methods
Percentage of Pay and Specific Dollar Amount
Savings Plus now gives you flexibility to select how to contribute to your account(s); you can elect a percentage of your gross pay and or a specific dollar amount. Both methods start with as little as $50 a month and can be increased up to the IRS maximum contribution limits. Use the State Controller's Paycheck Calculator to get an idea of how your contribution will impact your take home pay; you will need your paycheck stub to go through the process.
If you have questions regarding the option to contribute a percentage of your gross pay, please refer to Frequently Asked Questions or call the Savings Plus service center to speak with a representative.
Contribution Increases
Increasing your contributions can make a big impact on your retirement accounts. Even a small increase can make a big difference when it has time to grow. See how the benefits of time and compounding can work together to increase your retirement savings. We offer flexible options to increase your contributions, whether you are a "hands on" participant or like to remain "hands off", we have options that will fit your needs.
One Time Increase Option
You can elect a one-time increase option. You indicate the amount you want to increase your contribution (a dollar amount or a percentage, based upon your contribution method) and it will take effect in the following month's payroll cycle. Your contribution will remain at the new amount until you change it.
Annual Automatic Increase Option
Our new auto increase feature lets you increase contributions to your retirement account little by little each year. Simply select the date you want the increase to occur, along with the dollar amount or percentage of your increase, based upon your contribution method. Your contribution amount will automatically increase each year by that amount. The below chart illustrates the impact automatic increases can have on a retirement account. For more information on auto increase please refer to Frequently Asked Questions.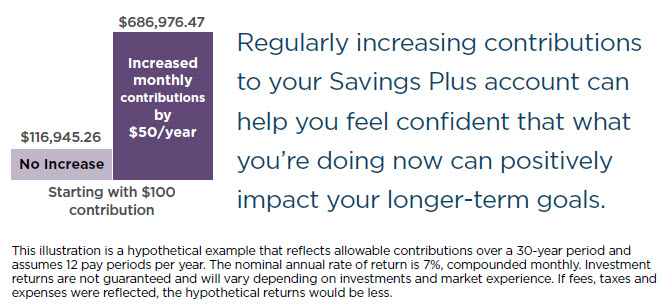 Catch-Up Provisions May Help You Invest More
If you are getting close to retirement and feel like you can invest more, learn about the catch-up contribution provisions that may be available for your 401(k) and/or 457(b) plan accounts.
Two ways to catch-up
There are two catch-up provisions that allow you to contribute more than the standard annual deferral limits if you are eligible. 
Age-based Catch-Up – In a tax year when you are 50 or older and are actively employed, you can defer up to $6,500 over the normal deferral limit in both your 401(k) and 457(b) plan accounts.
Traditional 457(b) Catch-Up – If you were eligible to contribute to the Savings Plus 457(b) Plan and did not contribute the maximum amount in prior years, you may be eligible for Traditional Catch-Up. This option allows you to contribute up to twice the annual limit for up to three consecutive years, based on the total of your underutilized deferrals from prior years. You can elect this option if you are within the three years prior to your Normal Retirement Age. Your normal retirement age is an elected age by you and may be between ages 50 and 72. You are not permitted to make Age-based Catch-Up contributions to your 457(b) Plan and participate in Traditional Catch-Up in your 457(b) Plan in the same year.
Lump Sum Separation Pay
If you cash out your accumulated unused leave time (Lump Sum Pay) when you retire, it is taxable. Another option is to contribute all or a portion of your Lump Sum Pay into your Savings Plus accounts, which may allow you:
To maximize your contribution
To defer your taxes
The flexibility of how you take payments
Option to spread your contributions
If you separate from service on or after November 1, you may defer your separation pay into your Savings Plus account into the following tax year, allowing you to potentially maximize contributions for both the current year and the following year.
Get the help you need
Contact us for one-on-one coaching while you transition from investing to spending in retirement. Or visit our Walk-In Center at:
1810 16th Street
North Building
Sacramento, CA 95811
Hours: 8 a.m. to 5 p.m. (PT) Monday through Friday (excluding State holidays)
---
1 IRS Announces 2020 Pension Plan Limitations
NRW-4945CA-CA.6