Are you ready? Your journey to retirement starts today.
The readiness meter you see when you log into your account shows how well you are preparing for retirement. To get a better picture of your retirement readiness, make sure to complete the four questions when prompted. This will help ensure you get the full view of your retirement.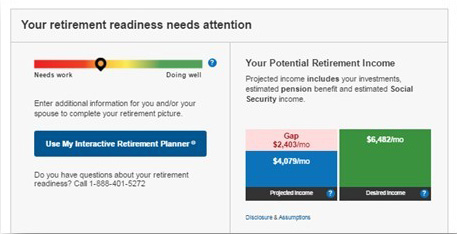 The four questions are easy to answer:
Current Gross Annual Income
Years of Service with Current Employer
Current Job Category
Desired Retirement Age
Coming mid-year, a Retirement Readiness Report will give you a holistic view of your retirement account.
You can also take advantage of the My Interactive Retirement Planner which is available now. This Planner will allow you to:
Add information about your other financial assets
Select your desired lifestyle in retirement and see how it may affect your budget
Project your monthly retirement income, using the Pension Estimator and the Social Security Estimator tools
Experiment to see how decisions you make now could impact your future
You will hear more about this report in the coming months but in the meantime, take advantage of our tools and resources to help you plan your retirement.
NRW-4834CA-CA