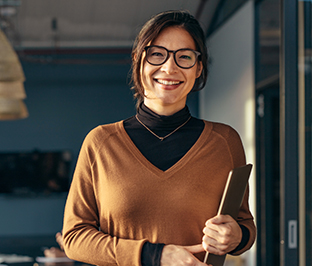 Your expertise, our tools and resources. We work better together.
As a state leader, you're in the best position to help employees understand the value of preparing for their retirement income needs through the California Savings Plus Program. We've produced a comprehensive guide to help you support your employees as they enroll and participate in Savings Plus and prepare for and live in retirement.
The basics of Savings Plus
Savings Plus is a voluntary retirement program that allows your employees to supplement their retirement benefits through tax-deferred and Roth payroll contributions.
Savings Plus offers pre-tax, Roth 401(k), and Roth 457(b) Plans.
Savings Plus is complementary to your employees' CalPERS pension and is a valuable state benefit offered by the California Department of Human Resources (CalHR).
Offer your employees access to retirement savings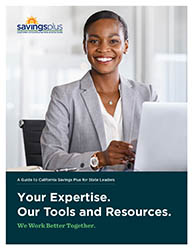 Provides information on Savings Plus, including what we offer employees and why Savings Plus is an important resource.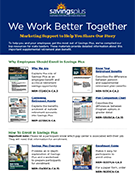 Offers quick access Plus materials.
Features who to contact to schedule on-site visits and workshops at your department.
Order Savings Plus materials for your employees and your office.
Enter new employee contact information or upload a list of multiple new hires.
We'll take care of enrollment and plan engagement for you.
Set up appointments with your Savings Plus Retirement Specialist.
Schedule an appointment with your rep for a 1:1, on-site enrollment meetings or webinars, etc.
This material is not a recommendation to buy or sell a financial product or to adopt an investment strategy. Investors should discuss their specific situation with their financial professional.
Nationwide Investment Services Corporation, member FINRA, Columbus, Ohio.